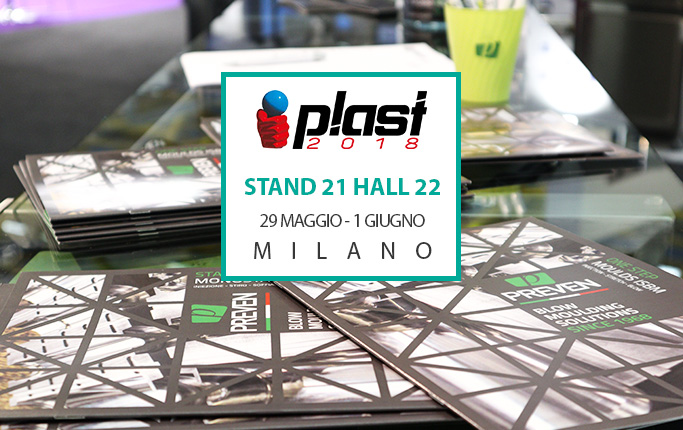 It will certainly not be the Milanese week famous all over the world for fashion that will take place at the end of May.
For us at Preven the Plast 2018 will be as if it were …
After the great success of the Bologna 2018 edition of Cosmopack, an event in which we played easy, since we were at home, the time has come to prepare for a definitely "cooler" trip, that of Plast 2018, an international fair to be held at Milan from May 29th to June 1st, dedicated to the plastics and rubber industries.
Difficult to find a situation more congenial than this in the European context …
A stand, the B 21 inside Hall 22, that of Preven, which for the special occasion has become extra large and of a more visual design compared to the Bologna edition.
An almost doubled surface, an even more functional subdivision of spaces for our visitors, if you want more scenographic: an alternation of cantilevered surfaces to highlight the "Preven" brand within the scene, assisted by the presence of a desk, two product windows and a large LCD screen on which will be projected the teaser Preven 2018 – The Team, surrounded by a background of thematic images to transmit, at a glance, the production aspects Preven, will accompany us during the fair event.
An important investment, designed and wanted for some time, in perfect harmony with the brand awareness strategy undertaken by Preven on a global scale during this last decade of activity.
A full four days, that of the Milan show, in which some representatives of our team will receive you at Hall 22, Stand B21 to show you the Preven branded products and introduce the innovative aspects that are going to the greatest level. of solutions, in this first half of 2018.
It would almost seem that we are speaking here of pret a porter and trends for 2018. In fact, the analogy with fashion is not out of place: customers who use bottles or plastic wrappings have differentiation needs, in a purely aesthetic sense , unthinkable until a few years ago and therefore are gradually becoming more sophisticated and demanding towards the manufacturers.
Preven wishes a fantastic pret a porter, pardon, Plast 2018 to all of you …
---
Would you like to make an appointment at our Stand at Plast 2018?
Contact us