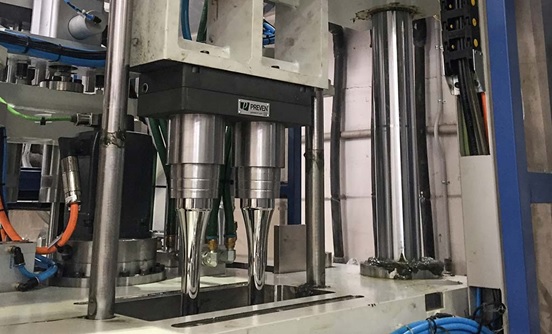 We have just delivered for a major customer a 2-cavity mold for the Magic MTM 152 stretch-blow injection machine to be used for the production of PET bottles in the food industry.
Preform design
The client provided us with the 3D-scale project from which the study of the optimal preform for the production of the bottle began.
Given the complexity of the result, the design phase of the preform for the 2 cavity mold was particularly demanding.
Preven provides the customer with all the know-how and technical support necessary to identify the "best choice" or optimal solution able to maximize the efficiency of the "system" mold over time.
100% Made in Italy production
In the same way as the design phase, the production phase was strictly carried out within the Preven factories in Italy thanks to the help of 100% Italian technology, know-how and labor.
So the 2 cavity mold for Magic MTM 152, exactly like any other Preven branded product, is 100% Made in Italy.
Assembly and Testing / Start-up
The Preven technical team carried out the assembly of the mold at the customer's plant and proceeded to complete the test / start-up.
The Preven intervention did not end with the testing phase. To maximize the yield of the plant, we remain available to the customer for routine and extraordinary maintenance.
Technical characteristics of the mold:
N. Cavity: 2
Bottle volume: 670 ml
ISBM machine for use: MAGIC
Preven specializes in making one-step 2 cavity molds for Magic MTM 152 dedicated to the food, cosmetics and pharmaceutical industries for important Italian and foreign customers.
Would you like to send us a request for an estimate regarding the realization of a 2 cavity mold for Magic MTM 152?