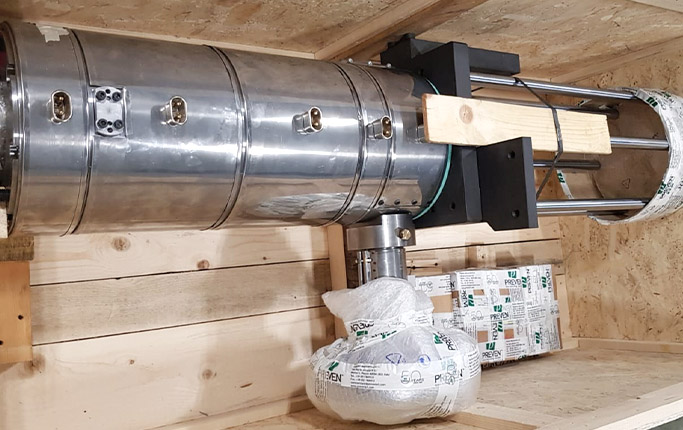 Delivered to FRENCH customer extrusion head for HMPE-HMWPE canisters for Plastiblow machine suitable for the production of 20-30 lt. for the chemical industry.
The extrusion head for HMPE-HMWPE tanks for Plastiblow machines is able to process rigid plastic materials such as POLYETHYLENE WITH HIGH MOLECULAR WEIGHT with very low MFI values.
The head was made with overlapping technology (cardioid) and was designed to support the assembly of the stripe extruder unit and the customer's PWDS.
The requests regarding the construction of extrusion heads are constantly growing at the Preven plants in Italy and represent our core business.
100% MADE IN ITALY PRODUCTION
The construction of the extrusion head, exactly like any other Preven brand product, is 100% Made in Italy.
ASSEMBLY AND TESTING/START-UP
The testing phase was followed together with our technicians at the plant of one of our customers – collaborators, in order to promptly resolve any start-up problems.
TECHNICAL CHARACTERISTICS OF THE HEAD:
N. Parison: 1
Maximum diameter of the supply chain: 200 mm.
Type: Monolayer /stripe
Application machine: Head used by the customer on the PLASTIBLOW machine.
Preven specializes in the production of extrusion heads for Plastiblow dedicated to the food, cosmetics and pharmaceutical industries for important Italian and foreign customers.
DO YOU WANT TO SEND US AN ESTIMATE REQUEST ABOUT THE CREATION OF AN EXTRUSION HEAD?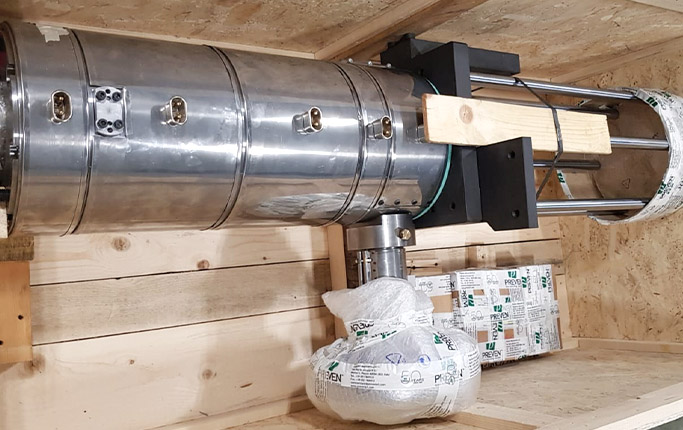 Consegnata a cliente FRANCESE testa di estrusione per taniche in HMPE-HMWPE per macchina Plastiblow atta alla produzione di taniche da 20-30 lt. destinate all'industria chimica.
La testa di estrusione per taniche in HMPE-HMWPE per macchina Plastiblow è in grado di processare materiali plastici rigidi quali il POLIETILENE AD ALTO PESO MOLECOLARE con valori di MFI molto bassi.
La testa è stata realizzata con tecnologia overlapping (cardioide) ed è stata predisposta per sostenere il montaggio del gruppo estrusore stripe e del PWDS del cliente.
Le richieste riguardanti la realizzazione di teste di estrusione sono in costante crescita presso gli stabilimenti Preven in Italia e rappresentano il nostro core business.
PRODUZIONE 100% MADE IN ITALY
La realizzazione della testa di estrusione, esattamente alla stregua di qualsiasi altro prodotto a marchio Preven, è 100% Made in Italy.
MONTAGGIO E COLLAUDO/START-UP
La fase di collaudo è stata seguita insieme ai nostri tecnici presso lo stabilimento di un nostro cliente – collaboratore, al fine di risolvere tempestivamente eventuali problematiche di start up.
CARATTERISTICHE TECNICHE DELLA TESTA:
N. Parison: 1
Diametro massimo della Filiera: 200 mm.
Type: Monostrato /stripe
Macchina d'impiego: Testa utilizzata dal cliente su macchina PLASTIBLOW
Preven è specializzata nella realizzazione di teste di estrusione per Plastiblow dedicate all'industria alimentare, cosmetica, farmaceutica per importanti clienti italiani ed esteri.
VUOI INVIARCI UNA RICHIESTA DI PREVENTIVO RIGUARDO ALLA REALIZZAZIONE DI UNA TESTA DI ESTRUSIONE?